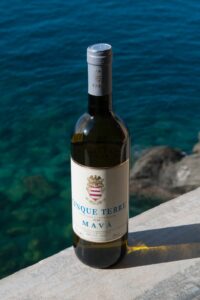 DOC dry white wine resulting from the blend of three local grapes varieties: Bosco, Albarola and Ruzzese, the last one an old variety typical of the area, reselected by University of Torino Oenology Research Department. This wine presents a pale yellow colour, intense aromas of dry herbs, with a background of tobacco and iodine; its flavour is rich and peculiar, well balanced in the mouth, with a persistent and refined aftertaste.
Area and growing technique
Produced with grapes coming from recently acquired terraces positioned along the path that leads from Vernazza to Monterosso: three vineyards in areas denominated Fonti and Contra, facing east, and Mavà, facing south. Altitude is 70-120 m.a.s.l. Espalier. Single Guyot. Each plant produces about 4-6 clusters (0.7- 1.2kg per plant).
Varieties percentage
Bosco 50%
Albarola 40%
Ruzzese 10%
Vinification and fining
Harvest: first to third week of September.
Grapes are rapidly de-stemmed and crushed. Inoculated with selected strains of yeast they ferment with the skins for 14 days, then undergo a soft pressing with a pneumatic bladder press. The resulting liquid is transferred in steel vats and proceeds to start malo-lactic fermentation. The new wine is left to set and transferred a few times until, after about one year refining in steel vats, it is filtered and bottled.