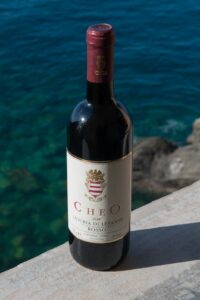 This wine's colour is intense ruby red with a purple tinge. The nose is intense, persistent, refined, with flavours of cherry and blackberry, balsamic and boisé. In the mouth it's dry, sapid, warm, slightly astringent, full-bodied and persistent, with a pleasant bitter note. Aftertaste: boisé and fruity.
Area and growing technique
Our red wine results from a blend of grapes grown in two different vineyards:
Vernazzola, in the inland, exposure S; 120-150 m.a.s.l.; soil texture sandy-loam; pH 7 (very rare in Cinque Terre);
Fossà: exposure S, altitude 60-120 m.a.s.l.. Soil texture: sandy-loam, pH 5.5.
Both vineyards are grown in espalier. Single Guyot. Approximately 8000 plants per ha. Each plant produces about 5-7 clusters (1kg).
Varieties percentage
70% old local variety called Gambu Russo (Red Stem) similar to northeast Italy's Refosco dal Peduncolo Rosso.
30% Cabernet Sauvignon, Merlot, Syrah
Vinification and fining
Harvest period: in Fossà, first to third week of September; in Vernazzola, last week of September.
Grapes are de-stemmed and crushed, and the must is stored directly into steel vats. Fermentation lasts for about 10 days, with no added sulphites, then the must undergoes a soft pressing with a pneumatic bladder press. The liquid returns to vats where it proceeds to malo lactic fermentation, which ends before winter. The new wine is transferred partly in French oak barrels partly in steel vats and left to refine for 12 months. Then it's again transferred to rest into steel vats and finally filtered and bottled. Minimum refinement in the bottle is 4 months.